News archive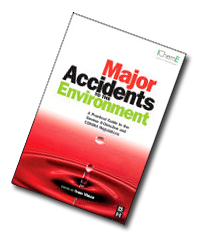 ASK Consultants' Ivan Vince has written a guide to managing major accidents to the environment. The book is an essential reference text for anyone involved in dealing with environmental hazards, from environmental lawyers and insurers to risk assessors and operators of major hazard sites.

Published by Elsevier, Major Accidents to the Environment is a first in its field. It explains the implications of relevant environmental policy directives including Seveso II/COMAH and provides practical advice for regulatory compliance, as well as a stock of relevant case studies.

Chapter One: Compliance with the Control of Major Accidents Hazards regulations.

Chapter Two: An overview of environmental law relevant to major accidents to the environment.

Chapter Three: Issues surrounding insurance and environmental hazards.

Order your copy from Elsevier
An interview with the author

A slide presentation and podcast about Major Accidents to the Environment, featuring Ivan Vince, is also available to registered users in Resource Downloads.

Last changed: Oct 13 2009 at 4:50 PM
Back