Due diligence audit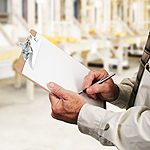 In any transaction or acquisition, it's crucial to be aware of the issues that may affect your future business.

ASK has considerable experience in carrying out health, safety and environmental audits, both in the UK and abroad. Wherever you're based, you can rely on our thorough auditing process to identify the key issues that may be of concern to your organisation.

Acting on behalf of purchasers and institutional lenders, we have carried out due diligence audits for a wide range of different organisations, including refineries, gas plants and factories. Selected examples include:
Audit of major hazards and occupational safety and health for a Russian refinery.

Health, safety and environmental audit of a beverage bottling factory in Northern Ireland.

Safety audit and assessment of fire and explosion hazard at a gas plant in Shanghai.

Health, safety and environmental audits of two Hungarian factories.

Other ASK services:
Incident investigation
Expert witness
Regulatory compliance
Lecturing / training
Contract research