Incident investigation
If your organisation has suffered an industrial incident, you'll want to get to the root of the problem quickly. Following an initial assessment, we waste no time in assembling a highly experienced team to complement your in-house capabilities with specialist expertise appropriate to the specific needs of the investigation.

In the unfortunate event that your company faces claims brought against it following an industrial incident, we are able to provide an independent assessment of the situation and advise on appropriate measures to prevent similar incidents occurring in the future.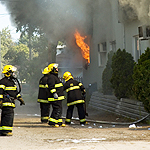 Past investigations include:
Explosions and fire at the Buncefield oil storage depot. [Read more]

Fire, explosion and pollution aspects of a supertanker casualty.

Gassing of operators in an electrolytic metal finishing process.

Odour and dust nuisance complaints in various industries.

A warehouse fire involving cocoa beans.

Other ASK services:
Expert witness
Regulatory compliance
Due diligence audits
Lecturing / training
Contract research