News archive
Legislation could have prevented Hungarian sludge spill

Posted on Oct 12 2010
News archive >> NEWS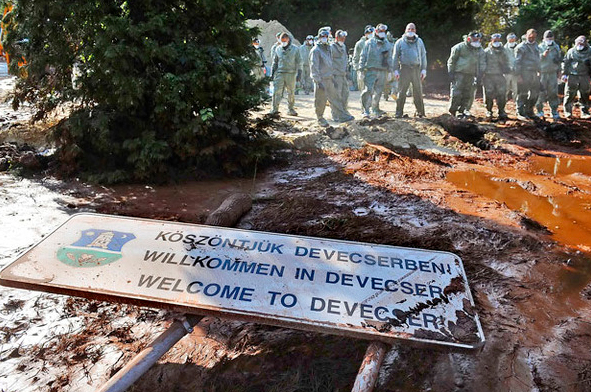 An incident at an aluminium plant in Hungary could have been prevented if European legislation had been brought into force earlier. The incident sent 700,000 cubic metres of highly alkaline (caustic), red sludge pouring into the nearby towns of Kolontar and Devecser, killing nine people and wiping out wildlife in a river that feeds the Danube.
The sludge will cause an additional health hazard if it is allowed to turn to dust without being neutralised – inhaling the potentially corrosive dust particles could cause damage to lungs and airways.

Sodium hydroxide has been responsible for much of the damage to wildlife. The chemical, and the plant itself, are not regulated under the Seveso II Directive, which governs the control of major environmental hazards involving dangerous substances, because it does not exceed certain thresholds for storage of hazardous substances as laid down in existing legislation.
Another directive - adopted in 2006 - governs the control of waste from mining. But due to industry lobbying, the European Council has delayed the date by which sites need to comply with the Mining Waste Directive until May 2012.
'If a strong alkali such as sodium hydroxide – or, indeed, a strong acid – is released suddenly and in vast quantities, it will kill everything in a river just as effectively as will small quantities of the most toxic pesticides, which are in the Seveso schedule,' explains Principal Consultant at ASK, Ivan Vince.
Ivan says industry should not be burdened with unnecessary regulation governing sodium hydroxide, which is widely used and generally has very little major hazard potential. But he does think the Hungarian incident could have been avoided had the 2006 legislation been brought into force sooner.
He also notes that only open waste sites are addressed by the Mining Directive. There is no provision for pollution caused by waste left at closed sites - of which there are many in Central and Eastern Europe.

Ivan is the author of 'Major Accidents to the Environment', a guide to the Seveso II Directive, which highlights several other examples of major accidents caused by substances that were not classified as dangerous to the environment.
Image: Zoltán Kocsis/Népszabadság
Last changed: Oct 20 2010 at 2:07 PM
Back